Get Your FREE Piano Moving Quote Today!
It's moving day! You've packed the last box, bubble wrapped the last piece of crystal, yet it feels like something has been overlooked. You scan the room and realize you've forgotten about the piano. What to do? This isn't a job for any ordinary mover!
You want it done right, so you call Alden's Piano Company, the #1 in piano moving and piano services in Chicago. Before you dial, here are a few questions to answer:
Is the piano an upright or a grand piano?
What is the height of the upright or the length of the grand piano? (Tip: To make measuring a grand piano easier, measure underneath. Providing the manufacturer and model can also help determine the size.)
Only the cities for the pick-up and delivery location are necessary for a quote.
Are there any stairs involved inside/outside either location?
If there are flights of stairs are they straight, or are there any turns?
Is there an elevator?
How wide are the doorways?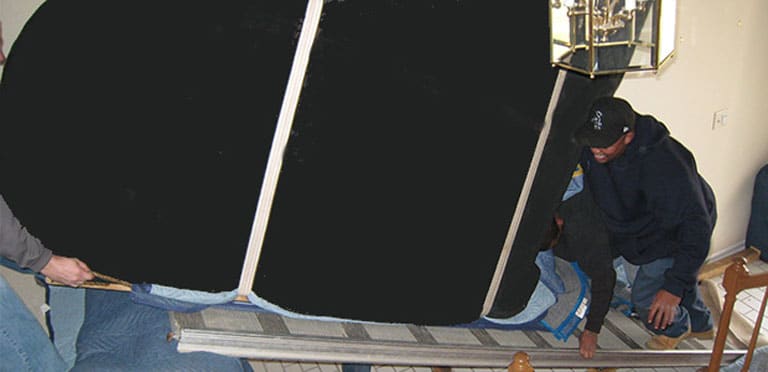 Here are a few questions to ask your piano mover:
Are you insured and do your piano movers have worker's compensation?
The answer should always be yes and proof of insurance will be provided upon request.
How many pianos do you move in a week?
In an average week, Alden's Piano Company moves 20-30 pianos.
Can you give any referrals?
We will be happy to provide referrals to any one of our stores or major clients for your peace of mind. Please visit us on Yelp, Angie's List, or Facebook as well.
How many piano movers will be on the job?
The majority of piano moves require just 2 movers. However, more difficult moves require more. The piano mover will know how many movers to have on the job and it's best to have 1 extra just in case.
Alden's Piano Company Piano Moving Quote Information
Alden's Piano Company offers Piano Moving, Piano Rental, Used Piano Sales and Piano Restoration services From Chicago to Milwaukee. We are happy to service clientele in Chicago, Naperville, Oak Park, Elmhurst, Arlington Heights, Lake Forest, Evanston, Schaumburg and Gurnee areas!